Grex has a long-standing reputation for pushing the pneumatic nailer industry forward with their specialty nailer offerings. Last month they announced the launch of their first cordless brad nailer, which features a battery system that's a first in the industry.
The GC1850 cordless brad nailer is powered by 2 AAA alkaline batteries, and a fuel cartridge. Yes, that's right – in a pinch you can grab the batteries out of your TV remote and fire away. While the AAAs may sound like not enough juice to fire nails, and to fire very many, according to Grex the tool will run at least 50,000 shots per battery cycle. The fuel cartridges, on the other hand, are good for 1,300 shots.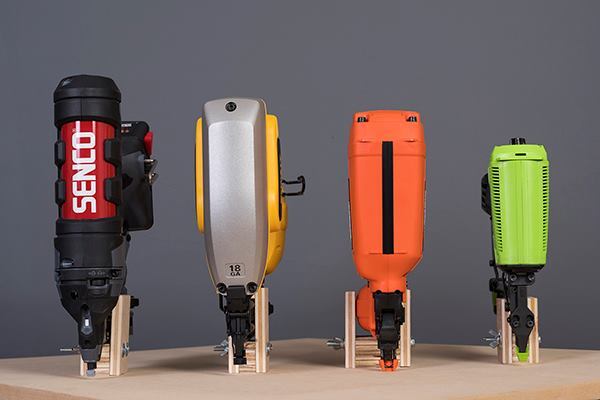 With MSRP of $499 (I found it online for about $440), it's not an inexpensive nail gun – especially when you consider that the fuel cells are sold separately ($25 for a pack of 4). These fuel cells are said to be odorless, and do not have an expiration date.
In lieu of a commonly known depth gauge, the GC1850 features a dial on top of the gun to adjust driving power. It equates to the same functionality: you adjust the power based on the material you're using, just as you would the depth gauge. But with this nailer you're not raising the tip up or pushing it down like most other nailers in its class. And speaking of power, the tool is reported to have enough to sink 2-in. brad nailes into 2-in. thick oak. The nailer features sequential fire mode, which Grex says can run 60 shots per minute.
We'll be testing this nailer out over the next couple of months along with others in its class.
SPECS:
Model: GC1850
Batteries: (2) AAA
Fasteners: 18 Gauge Brads
Fastener Length:1/2-in. – 2-in.
Weight: 4.4 lbs.
Fuel Type: Grex GFC01
Cost: $440 online ($499 MSRP)
www.grexusa.com
The video below offers a deeper look into the tool, along with some tips on using it.