A little over a year ago I noticed a DeWalt storage product I hadn't seen before, the Deep Pro Organizer (DWST14825) a modular plastic box that contains removable plastic cups for storing small parts and fasteners. The price was right so I bought three. A few weeks back I saw a new smaller version of the organizer (DWST14740), the Mid-Size Pro. I liked the large organizers so I immediately bought two of the smaller ones.
Deep Pro Organizer
I bought these boxes because they looked like a better way to store the loose fasteners that lived in boxes and cans on some shelves in my shop. And they were; they allowed me to stow nails and drywall screws in a smaller area and have better access to them too because the lids are clear so you can see what's inside.


The boxes can be carried alone or ganged together with clips that fold up from the sides.


The removable cups are great; you can swap them between boxes or take selected ones out and keep them where you are working.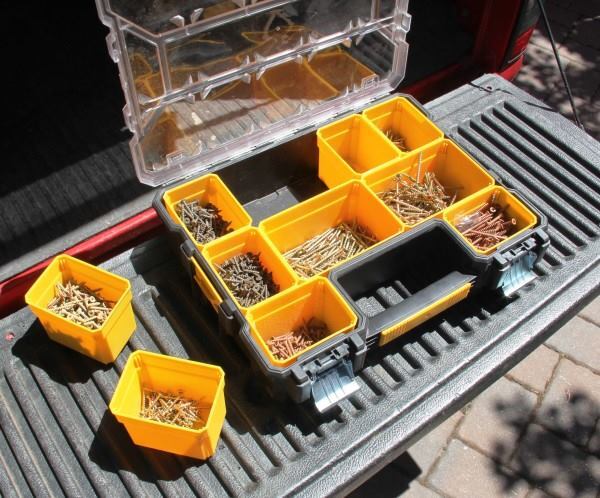 The Deep Pro Organizer comes with 10 removable cups, 8 small and 2 large. The small ones are about 3 x 4 x 3.5 inches deep and will hold a pound or two of drywall screws. The large cups are twice the size of the small ones. Ridges on the underside of the lid prevent cups from sliding around when neighboring ones are missing.


As plastic boxes go, these are very sturdy--on par with the company's TStak line and the modular organizers from Festool and Bosch. The latches and hinge pin are steel. Everything else is some kind of thermoplastic--except for the lid, which is polycarbonate. I've accidentally dropped them empty onto concrete and banged them around when filled without causing any damage.
Unlike inexpensive organizers I have owned before, this one does a good job keeping parts from mixing when you stand them on edge. Screws, headed fasteners, and finish nails 6d and larger will not get through to neighboring cups. Though anything smaller—4d finish nails, thin washers, and the like—may get through.
Mid-Size Pro Organizer
This Organizer resembles the Deep Pro but differs from it in size and slightly in construction. It holds 6 of the same small removable cups, has a pair of non-removable storage cups next to the handle, and can be connected to other boxes of its kind.


Both size boxes appear to be made from the same materials--except for the latches, which are metal in the large box and molded into the polycarbonate lid of the small one. It's hard to believe the polycarbonate latches will last as long as metal ones, though I have to say they do make it easier to open and close the lid.


The other notable difference is the presence of a gasket near the edge of the lid--placed there to make the box more water resistant.


I didn't test the gasket's effectiveness, but it looks like it should do a pretty good job protecting the contents. The box has an IP53 rating, which means it is just shy of being dust-proof and is moderately resistant to water intrusion (it can be sprayed 60 degrees off vertical for 5 minutes without any water getting in).
Smaller and lighter than the Deep Pro, the Mid-Size pro is equally handy. It holds less, but for many tasks six types of fasteners are plenty. Cups can be swapped between organizers so it's easy to carry just what you need.
The Bottom Line
I like both of these organizers. They're sturdy and it's convenient to be able to take cups out, swap cups around, and look through the top to see what's inside. Pro Organizers are not fully modular and can't be ganged with tool boxes, like L-Boxxes and Systainers can, but they are equally handy and sell for a fraction of the price of organizers from those systems.
Specs: Deep Pro Organizer (DWST14825)
Length: 17.5"
Width: 14"
Height: 4.5"
Country of origin: Israel
Street Price: $24
Specs: Mid-Size Pro Organizer (DWST14740)
Length: 10"
Width: 14"
Height: 4.5"
Weight empty: pounds
Country of origin: Israel
Street Price: $15